All aboard the SEA Underground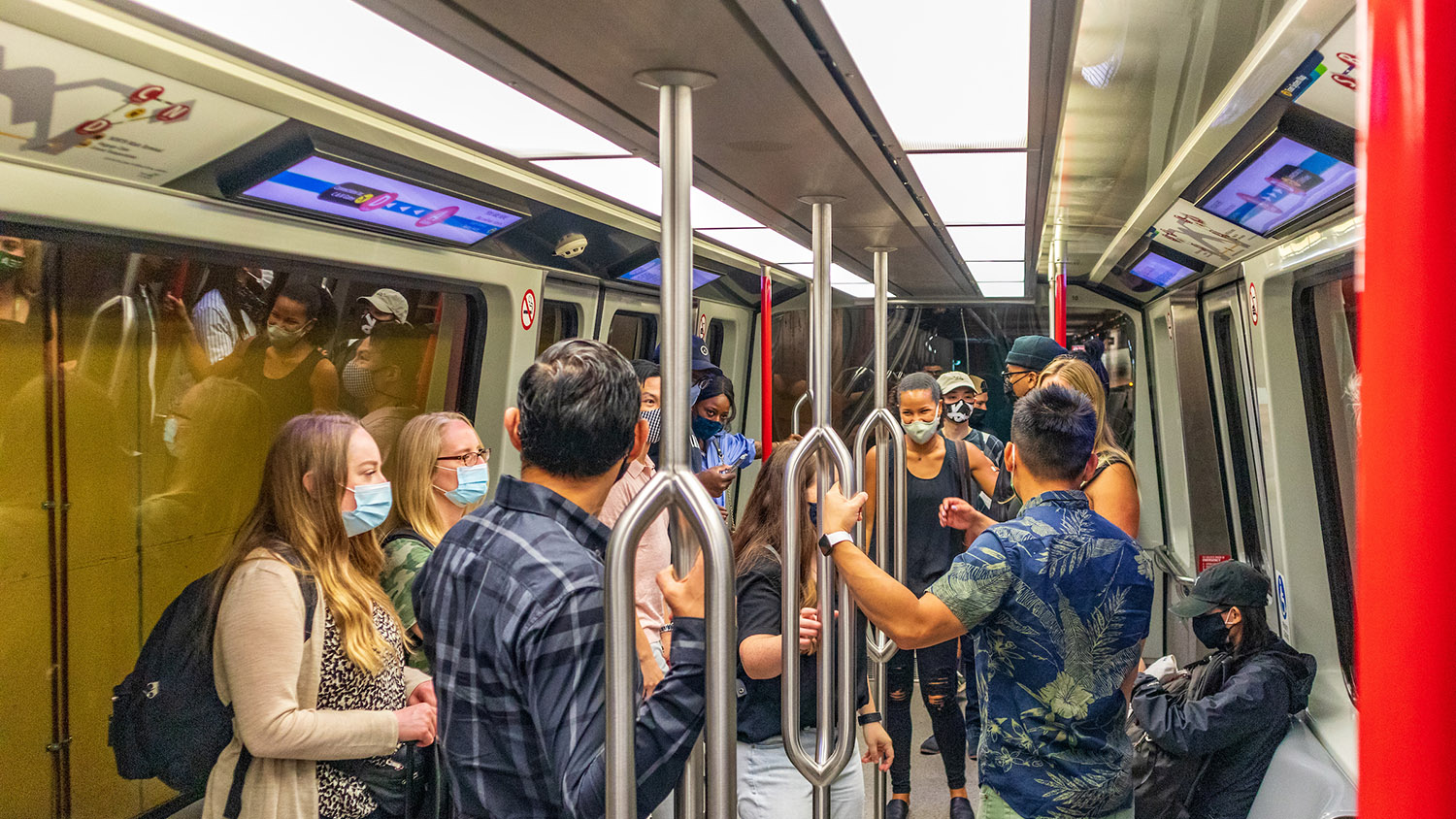 Late to your door? Don't let a mad dash through the terminal derail your travel experience. Sometimes the fastest way to your destination at Seattle-Tacoma International Airport (SEA) is to take the subway. SEA trains have always had the ability to get you through the terminal in a snap and help you access Concourses N and S, and now the airport rail system has a new name.
Allow us to reintroduce the airport rail system as Underground SEA! Get on board and watch out for the gap with these tips and tricks. Next stop: SEA Underground!
Quick facts about SEA Underground:
Know before you go: Each airline rents different gates around the terminal. Depending on your airline, you will be able to determine where you need to go to board your flight! Alaska Airlines flies from Gates C, D, and N. Delta, United, and almost all international airlines fly from Gates S and A. See the full list of airlines and their gate assignments
Access all doors: Halls A, B, C and D are all connected and you can walk or take the train to any of these four halls. To get to Concourses N and S you will need to take the SEA metro as they are not connected to any other gates
Did you manage to get through security? Find the nearest station to you. Checkpoint 2 is the closest checkpoint to the S train loop while Checkpoint 5 is the closest to the N train loop. Or use our interactive map for step-by-step directions!
Hop on for a quick ride: Press? Although you can walk to every door outside of Concourse N and Concourse S, you can easily catch a train to get to your destination faster! Each train ride takes two to five minutes. A timer at the top of each train estimates the arrival of the next train
Don't go out by mistake: When leaving the train, if you continue your flight, avoid the baggage claim signs! If you come across an airport employee in front of an office on the SEA Underground level, you will most likely exit the secure area. Need to go out? Head to Concourse S or Concourse N for two options to exit the secure area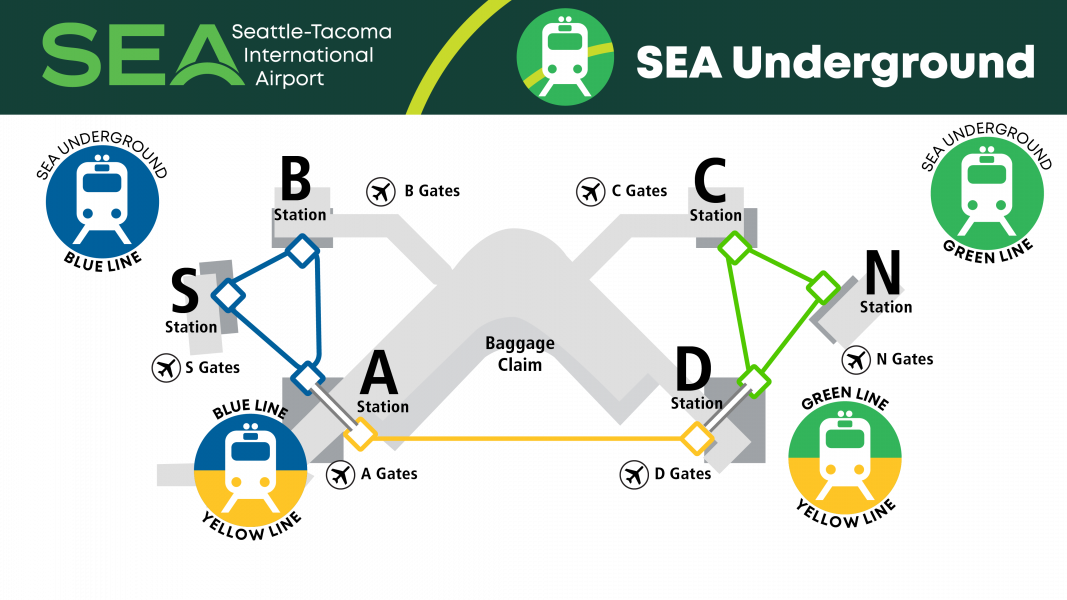 ride the rainbow
The SEA metro consists of three lines and each is assigned a different color – the Blue Line (South Train Loop)the Yellow line (shuttle train between stations A and D)and the Green Line (north rail loop). The lines are easy to identify by the corresponding color on the walls next to and behind the station doors (And don't worry! SEA is working on adding more signage soon!) In the meantime, here's a quick cheat sheet:
| | |
| --- | --- |
| Yellow line (shuttle train between stations A and D) | This line connects to the Concourse S and N train loops to help you get to all other gates quickly! There are only two stops to and from stations A and D, so be sure to get off after one stop. Otherwise, you'll be back where you started. |
| Blue Line (South Train Loop) | The South Train Loop connects Concourses A, B, and S (in that order). The Resin Flower Artwork, flower wall, by Nancy Blum is located above the entrance to the South Rail Loop at Station A. |
| Green Line (north rail loop) | The North Rail Loop connects Concourses D, N and C. A collection of oil paintings,Traveler by Kare Gantz, are located above the North Rail Loop entrance at Station D. |
Underground facilities
Find out what you can find at each SEA metro station. For more advice, use our interactive map or download the flySEA app.
You want to know more ?
Look at this: Train User's Guide for more tips on the SEA Metro
Here to help: Information kiosks staffed by volunteers are located at Stations A and D. They can help point you in the right direction
More art: Learn more about artwork at SEA Airport
Maps and app: For more tips or information about any location, visit our interactive map or download the FlySEA app