Can myopia be prevented if detected at an early stage? – says Dr. Faheem Inayatali, 2022 ThreeBestRated® Award-winning pediatric optometrist in Houston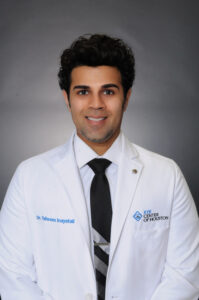 Nearsightedness, or nearsightedness in lame man parlance, is one of the most common eye conditions known to everyone. About 40% of Americans suffer from this condition. In most cases, a person can develop myopia due to heredity. However, in recent times, factors such as excessive use of electronic devices, changes in educational and recreational behaviors, and lack of familiarity with eye health management are becoming reasons for myopia. So, can we prevent myopia if we abstain from these factors? Let's seek the advice of a professional.
Who can explain this to us better than an optometrist? So we tapped into the knowledge of Faheem Inayatali, a 2022 ThreeBestRated® award-winning pediatric optometrist in Houston, TX to learn more.
He says there are many things we can do to slow the progression of myopia. They are:
Follow the 20/20/20 rule: Look at something 20 feet from your screen for 20 seconds every 20 minutes.
Try to spend more time outdoors than on digital devices.
If you experience early symptoms of myopia, such as headaches and blurred vision, get tested immediately and follow the recommended corrective treatment.
Sign up for a myopia management program with your eye doctor.
It is essential to obtain the opinion of a doctor to manage it.
About Faheem Inayatali, OD, MBA, Diplomate ABO – Eye Center of Houston
Faheem Inayatali is Houston's renowned pediatric optometrist. His practice in the field of optometry has been phenomenal. The ThreeBestRated 2022 award and other meritorious awards he has won over the years are testimony to this. He is a board-certified optometrist and board-certified orthokeratologist specializing in dry eye and pediatric eye care, glaucoma, and pediatric myopia management.
Dr. Inayatali has been honored as a Diplomate of the American Board of Optometry, a distinction held by less than 4% of optometrists in the United States. Dr. Inayatali founded the Dry Eye & Specialty Center in 2001 to provide treatment for patients requiring a higher level of eye care. He practices evidence-based medical eye care to solve complex cases throughout his work in pediatrics. His interest in exploring the global myopia epidemic led him to pursue a Masters in Public Health at Harvard University.
He is an expert surgeon and the most revered optometrist who provides eye care to diabetic and pediatric patients who do not have access to quality eye care through his NGO. Equipped with the pinnacle of eye care technology, Dr. Inayatali has the expertise to deliver exceptional results.
To get in touch with him, please visit – https://eyecenterofhouston.com/.
About ThreeBestRated
Three Best Rated® was created in 2014 for the simple purpose of finding the top 3 local businesses, professionals, restaurants, healthcare providers, and everything in between, in any city. Each company is meticulously hand-picked by our employees. We check reputation, history, complaints, ratings, proximity, satisfaction, trust, cost, general excellence, reviews, etc. company, using our 50-point inspection. We only display companies verified by our employees. Other places will call it "hard work" and "unnecessary". We call it 'due diligence' and 'the right thing to do'. Our website is updated regularly for quality and the latest business information.
Three Best Rated has the honor of helping 4 million customers every month find the best businesses in any city – effortlessly!