Continuation of underground construction of the MRT-7: DOTr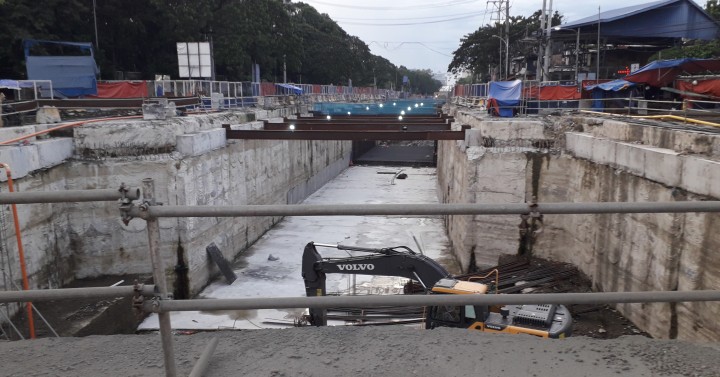 MANILA – The Department of Transportation (DOTr) clarified on Wednesday that underground construction of the Metro Rail Transit Line 7 (MRT-7) station at Quezon Memorial Circle (QMC) is not affected by the cease and desist order 'abstain issued by the city of Quezon. government.
In a message, DOTr Deputy Secretary Goddes Hope Libiran said the temporary order issued by Quezon City Mayor Joy Belmonte only concerned the surface construction of the railway line.
"We understand that the concern is for the above-ground structure and that construction of underground areas may continue," Libiran said.
She said the DOTr would immediately discuss the matter with the local government in Quezon City to find a "win-win solution".
In a statement on Monday, Belmonte said the temporary suspension order against construction of the MRT-7 station was issued after historians and environmentalists decried its effects on the national heritage park.
She requested a review of the project after it was found to exceed the area agreed for its construction.
"Based on the permit and project authorization, the contractor has indicated 4,997 square meters as the floor area. However, the proposed floor space is more than five times the approved figure, "said Belmonte.
She added that the National Historical Commission of the Philippines, the National Commission for Culture and the Arts and the descendants of the late Manuel L. Quezon Рthe Quezon-Avance̱a family Рmust have their say on the matter because of its status. of national heritage symbol.
As of January 15, the DOTr said construction of the MRT-7 was 50.69% complete – civil works on nine of its 14 stations were underway, 108 of its wagons constructed and the track installation was underway. In progress.
Once operational, the MRT-7 is expected to serve 300,000 to 850,000 passengers per day, with the possibility of expansion to accommodate increased ridership.
The railway line, connected to Light Rail Transit Line 1 (LRT-1), MRT-3 and Metro Manila Metro via the joint station currently under construction on North Avenue, is expected to be partially operational by 2021 . (ANP)