No solution in sight in UK rail disputes – Reuters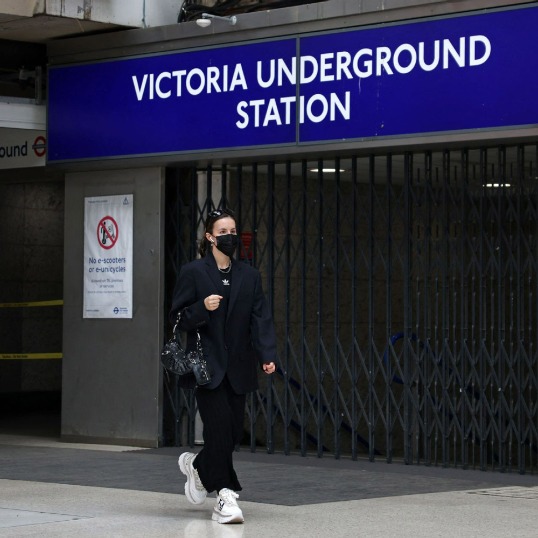 The UK has seen a number of train strikes over the summer. The last was in August, which halted rail and bus services in London for three days.
So far no further strike action has been announced, but with talks between the RMT, the National Union of Rail, Maritime and Transport Workers and Network Rail deadlocked, there could be the possibility of further industrial action.
The walkout covers wages, pensions, working conditions and potential job losses as the cost of living crisis continues and inflation hits a 40-year high.
The Transport Employees Association, or TSSA, and the train drivers' union, the Associated Society of Locomotive Engineers and Firefighters, or ASLEF, are also involved in the labor dispute.
Mick Pender, lecturer in human resource management at Keele Business School in Staffordshire, said the current rail disputes appear to have reached an impasse and the positions of the parties involved have become entrenched.
"We are witnessing attempts by the government to continue with its program of modernization and reform of public services. There is also, according to rail operators and the government, a funding gap of 2 billion pounds (2.3 billion dollars) in national rail and the London Underground which has resulted from lower passenger numbers as many people continue to work from home," Pender said.
He added: "The key principle on the part of the rail operators is that any agreement would lead to greater efficiency, but this, of course, threatens long-established ways of working and it puts pressure on the unions involved who attempt to defend the terms and conditions of members – many of whom, certainly in the case of the RMT, earn salaries of between £25,000 and £31,000, and are dependent on established bonuses, rest days and unsocial work allowances – which are threatened.
The RMT claimed thousands of maintenance jobs were being cut across the rail network and there was no guarantee of no compulsory layoffs.
British Transport Secretary Grant Shapps provoked fury from unions after telling British media this month that he would consider enacting a law known as Section 188, a mandatory redundancy notice, which would force the adoption of certain measures which provoked the strikes.
On Shapps' comments, the TSSA said: "Such a notice of mandatory redundancies has already been issued by Network Rail with its proposal to cut up to 1,900 jobs in the industry. This is not 'reform' , it's just cuts. That's one of the reasons TSSA members are on strike."
RMT general secretary Mick Lynch said the transport secretary had "no authority to issue notices under section 188".
Lynch said: "Instead of threatening to cut thousands of safety-critical jobs, introduce driver-only trains, shut down ticket offices, bail out private rail companies and introduce more union-busting laws, the government and employers should enter into serious negotiations with RMT."
Pender noted, "What we see throughout the dispute is in fact an attempt by the government to control any potential outcome; the government is very much involved in terms of setting the parameters for negotiations on the part of the employers."
He described Network Rail as being "in effect a hidden government, which shapes negotiations and in a sense ties the hands of rail operators when it comes to trying to settle these disputes".
Meanwhile, Manuel Cortes, TSSA's general secretary, has written to the transport secretary calling on Shapps to 'break the deadlock in the rail dispute'.
The TSSA believes that Shapps not only has the power to intervene to find a solution, but that the rail contracts stipulate that the Department of Transportation is ultimately responsible for changes relating to railroad employees.
Cortes said, "We have made it clear from the outset of this dispute that we do not take industrial action lightly and are always seeking a resolution."
As for whether there will be a settlement soon, Pender said that's hard to predict.
"The unions have said they are ready to work towards a settlement as long as the threat of mandatory job cuts is removed and there is a meaningful wage offer in line with inflation," the Keele professor said. Business School.
"As things stand this is not the case and the operators, via Network Rail, have offered 8% over two years which is conditional on a restructuring. The RMT said this effectively amounts to a pay cut because it's over two years, way below the rate of inflation and its members didn't get a pay raise last year."
For the union, any operator that engages in negotiations must be meaningful and free from political interference, Pender added.